Books
---
Neat Economic Stuff Volume 1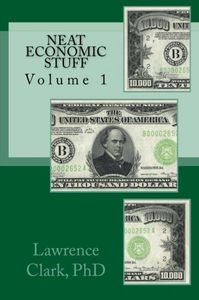 Ever wonder why jewelers don't have price tags on many jewelry items; why the car salesperson always wants to know the monthly car payment you are looking for when purchasing a car; or, how the porn film industry sets audiovisual formats for the world? In Neat Economic Stuff, you'll find the answers to these and 18 other economic questions and puzzles in easy to read, humorous and understandable terms. Other questions answered: how did we end up with $0.99 music downloads; how the federal government ended up creating and running the world's largest cigarette cartel; how government sponsored and financed vandalism became an economic growth strategy; who is considered the greatest antitrust buster and promoter of consumer welfare ever; why there is never a cut in federal government spending nor taxes; and why you get paid what you get paid, plus much more.
The Eccentric World of Casino Gambling
A complete encyclopedia of the casino gambling industry. Everything you wanted to know or need to know about the casino gambling industry is found in The Eccentric World of Casino Gambling. You will learn: proper money laundering etiquette; how casinos work and operate; what a casino is, how the Indians got casinos, and why they have such an advantage; over commercial casinos; what is behind the spread of casino gambling; who has the largest or most profitable casino; why casino gambling is so dependent on the underground economy; the world's strangest gambling laws; are gambling debts collectable; what are gamblers like; where gamblers get their money from; what it is like to work in the casino gambling industry; and how much to expect in the terms of pay; why casinos have not delivered on the economic promises; why casinos are considered the second fastest way to destroy an economy, plus much more. All of this is told in a well-researched, experienced and documented, but irreverent examination of the casino gambling industry. So enjoy!